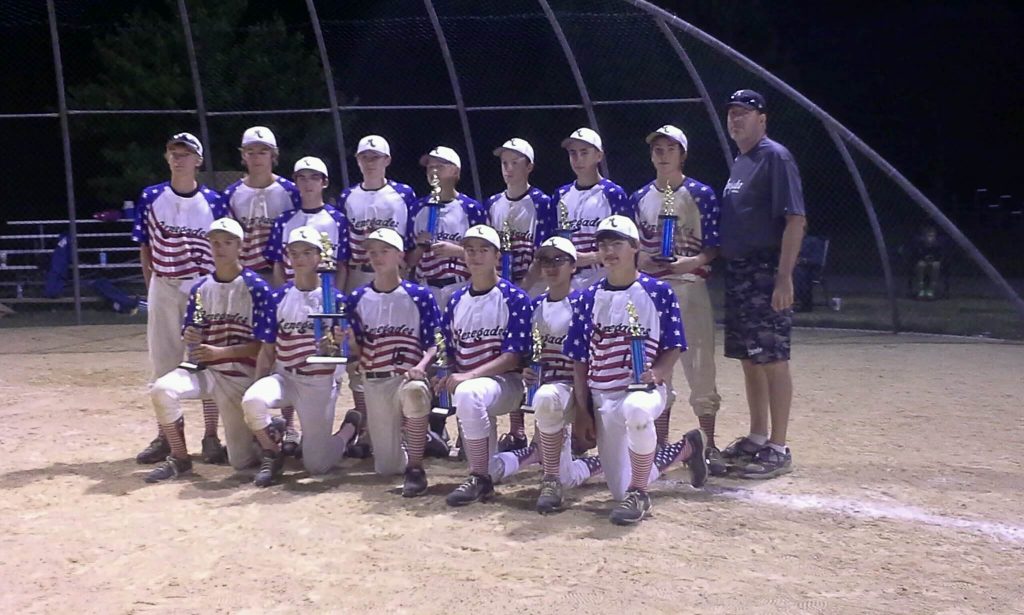 The 14u Renegades capped off their Lake County Baseball League season in style last weekend, winning the Cross Town Classic, a tournament combining teams from both the Lake County and McHenry County leagues.  The Gades came in as the #2 seed from Lake County and faced Lake in the Hills in their first game, winning 6-2.  Arger was excellent on the mound, throwing five innings of three-hit ball, striking out five.  Clifford was the star at the plate, going 2-3 with a double and triple.  The win moved the Renegades into a semifinal matchup with Kenosha.  The Renegades pulled ahead early, scoring five runs in the second and winning 11-4.  The bats were alive in the contest, with Margolick going 3-3 with a double and Clifford ending up a single short of the cycle (including a massive home run).
The win set up a showdown with the regular season champion Lake County Lightning, who had beaten the Renegades twice in previous matchups.  The game was a back and forth affair, with the Renegades putting up three runs in the first and Lake County putting up two of their own in the second inning.  The good guys stormed ahead over the next four innings to take a 9-2 lead heading into the bottom of the sixth.  Lake County showed why they were the league champions, coming back with five runs of their own to cut the deficit to 9-7 with one out.  Houck, who had caught the two previous games, was brought in to relieve Leyden and stop the Lightning.  He did just that, earning a 1 2/3 inning save and preserving the 9-7 win.  Miller came up huge in the game, with two towering home runs and three RBI.
After roughly 10 hours and three games, the Renegades hoisted the champions' trophy, walking away with (sweaty and dirty) heads held high.