http://www.chicagotribune.com/news/local/suburbs/morton_grove/chi-jnt391573-mortongrove-niles-20120628,0,865365.story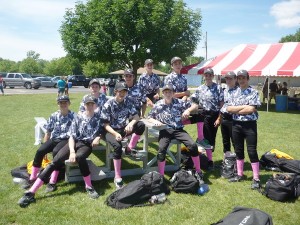 MORTON GROVE—
No one fights alone: the four words that sum up the Niles Renegades travel baseball team.
In fact, off the diamond, players and coaches alike wore wristbands with the with that simple statement.
Encompassing the ideals of sportsmanship make sports, and especially youth sports, a joy to both watch and play.
With the growth and development of programs such as the 14-and-younger league, teams witness both the ups and the downs of sports, which the 14U Niles Renegades know all too well.
During the first weekend of June in Chillicothe, the Renegades learned firsthand about true sportsmanship by honoring an 11-year-old youth who passed away from bone cancer.
After collecting $850 to donate to St. Jude Christian's Research Hospital, the Renegades hit the road for the eighth annual Brad Wallin Memorial Baseball Tournament.
In addition, a majority of the players on the team shaved their heads in honor of the youth's memory. With pink socks and helmets glistening throughout the game, the Niles Renegades teenage teammates continued a visual tradition in recognition of the ongoing fight against cancer.
A battle of perseverance had only just begun. Maybe it was the attention garnered by the bright pink helmets, or maybe it was the three-hour drive. Regardless, the Renegades first game grounded the team into last place.
Saturday, however, brought new hope until a vital sixth inning tested the spirits of the team as the lead slipped away.
In between innings, there was no blame, cursing of the umpires or sarcastic remarks to the coaching staff. Instead, words such as "yes, coach" and "you've got this kid" echoed through the dugout.
With spirits high and continual confidence, the Renegades went on to win the next three tourney games by using a combination of smart batting, superb pitching and excellent defense, resulting in double plays and limiting errors.
Collectively, the team entered the consolation championship with the same determination and grit the players used to collect donations, never allowing the 26-seed placement to influence the outcome.
Sprinting to the field with the knowledge that together the team could accomplish anything, the Renegades cruised to a 12-5 victory with solid hitting along with a pivotal pitching performance.
Although it was the third Sunday game for the Niles players, the team appeared at ease from the first pitch to the final out. As a team with the principle that no one fights alone, the Renegades returned home with medals around their necks.
Together, the team upheld the Renegades philosophy that highlights compassion, self-responsibility and sporstmanship through both losses and wins.